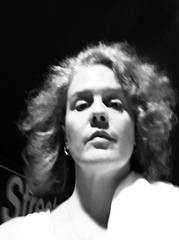 Tiffany Dugan is a painter and a collage and book artist. Her work is inspired by long walks, news clippings, and moments of meditation. She often incorporates lists, journal entries, daily writings, and poems into her art. Layer by layer, the words become abstract from their original context and gain new meaning.
Tiffany's work has shown in New York at The Center for Book Arts,

The National Academy School,

Sarah Lawrence College, The Kitchen, and Soundtrack F&T. Her work is also in private collections in the United States and Germany.

She lives in northern Manhattan.